Celestron NexStar 8SE Review: After Using It For 2 Years
Disclosure: This post contains affiliate links and I may earn a small commission (at no extra cost to you) if you click through and make a purchase. Thanks in advance – I really appreciate it!
If you're looking at the Celestron Nexstar 8SE and wondering if it's right for you? This review, guide, and outline of my experience with this amazing telescope will help you decide whether or not to invest in this telescope.
Right off the bat, I can tell you that after using this high-spec computerized telescope for over 2 years, it has become my go-to and favorite astronomy equipment that I expect to use long into the future.
But if you're going to spend over two thousand dollars on a telescope, you're probably asking, "Is it worth it?"
So, let's find out!
The Celestron NexStar 8SE is a powerful, intuitive, and premium telescope that is ideal for new astronomers and also those more experienced astronomers who are looking to upgrade their current spec. The 8SE is a great buy for the money if you want to travel, dabble in short exposure astro imaging, and want a close-up of DSOs and local bodies. If you want to do all this on the go, the SCT has the build that allows for easy transport and setup. The views you see at the eyepiece will take your breath away if you've never used a scope before, or even if you are used to something smaller. The only drawback this telescope has is that it doesn't come with a power supply. So you may have to purchase whichever source of power you deem is most convenient, other than that, you are great to go right out of the box!
Pros
Large aperture

Superb optics 

Fantastic quality of materials

Robust build

Simple setup & great portability

2-year Celestron warranty

Capable of short-exposure astrophotography
Cons
No external power supply

Short battery life

Only 1 included eyepiece

Expensive

Not for long-exposure astrophotography
Celestron - NexStar 8SE Telescope
Design type: Schmidt-Cassegrain

Aperture: 203.2 mm (8 inches)

Focal Length (FL): 2032 mm (80 inches)

Focal Ratio (FR): f/10

Max useful magnification: 400x

Mount type: Alt-azimuth outfitted with Goto-motorised tracking

Weight: 48.9 pounds
Prices pulled from the Amazon Product Advertising API on:
Product prices and availability are accurate as of the date/time indicated and are subject to change. Any price and availability information displayed on [relevant Amazon Site(s), as applicable] at the time of purchase will apply to the purchase of this product.
Celestron NexStar 8SE Review
The Celestron NexStar telescope range is a series of catadioptric telescopes in four sizes. 
In the range, there are 4", 5", 6", and 8" models. (See our full review of the NexStar 4SE, NexStar 5SE and our NexStar 6SE telescope review)
At 8 inches of aperture, the NexStar 8SE is the largest & the most advanced telescope of the group.
Even with a larger aperture, the 8SE barely weighs more, is barely longer than the 6SE, but it does come at quite the price jump.
That said, if you decide to dive in at this high price point for the NexStar 8SE you are going to be getting exactly what you paid for. 
You are going to get a high-end, high quality, high performance, and highly innovative telescope that is capable of teaching, entertaining, and delighting prospective users for years to come.
Who should buy the NexStar 8SE?
It's the premium choice with the greatest power and it's ideal for both new astronomers and those looking to improve their current telescope.
Here is who it is particularly suitable for:
It's best suited to those who want to dabble in some short-exposure astrophotography.

Those who travel often to remote locations.

Those who are specifically seeking a lightweight, compact, and fast setup.

Those of you with a good budget (between $1500-$2000 – the latter if you are looking to purchase extra accessories)

Looking for the most powerful telescope within this price range

Wants to observe the most interesting celestial objects in minimal time with minimal work, setup, and refinement.
NexStar 8SE's computerized motor is extremely helpful in object hunting – which is ideal if you have a light-polluted sky or your astronomy joy comes from seeing objects, rather than star-hopping for them.
Before we dive into the nitty-gritty, I just want to present some of the bonuses that this model has over the smaller versions of the NexStar SE telescopes.
Celestron NexStar 8SE: Bonus Features 
The 8″ NexStar is more popular than both the 4" and 5" models and collects 77% more light than the 6″ model.
I decided to buy the 8SE over the other models (4SE,5SE, 6SE) due to its large aperture (8"). This has given me a maximum quality view combined with the portability factor.
In terms of weight, it is only 3lbs heavier than the 6SE coming in at an extremely reasonable 33lbs. You get almost double the light intake over the 6SE for only three extra pounds.
The 8SE is not much more money than the 6SE. Considering you are adding nearly double the light potential, a whole ton of power, without adding much in the way of size or weight this seems like a fair increase in the price.
Celestron NexStar 8SE: Optics Review
Lens & Mirrors
The NexStar 8SE is an 8-inch Schmidt-Cassegrain with a focal length of 2,032mm, giving a focal ratio of f/10. All of this fits into a compact orange tube that weighs 11kg and is just 432mm long.
One of the standout highlights of the 8SE is of course the 8″ primary mirror combined with its optimal focal length.
This telescope boasts a maximum magnification of 480x, which basically means that you will be able to spot pretty much anything up to Neptune, which basically covers our entire solar system.
The optics on this telescope are great value for the money thanks to the StarBright XLT optical coating that enhances light transmission and results in a much brighter image. 
What can you see with the Celestron NexStar 8SE?
Quite frankly, I was able to spot (almost) every single celestial body in our solar system, thanks to the telescope's exquisite 8-inch mirror that boasts up to 480x magnification. 
This includes phases of Mercury & Venus, every single detail of the Moon, Mars's ice caps, dust storms, or albedo shading, Jupiter's bands and its moons, rings of Saturn, and then finally, Neptune and Triton.
The large 8″ aperture enables the dimmer objects (including Galaxies and Nebulae) to be observed in great detail.
Taking into account the viewing conditions, and assuming you have dark skies, you can see celestial objects down to magnitude 14. 
This enables you to observe as far as Pluto with the right viewing conditions, & hundreds of other Galaxies and Nebulae.
The Orion Nebula, Hercules Cluster, the Rose Cluster, the Swan Nebula, and the Andromeda Galaxy are absolutely phenomenal to observe and look superb through the 8SE.
The optics in the NexStar 8SE are robust and durable, ensuring that you can view with great sharpness and detail.
Prices pulled from the Amazon Product Advertising API on:
Product prices and availability are accurate as of the date/time indicated and are subject to change. Any price and availability information displayed on [relevant Amazon Site(s), as applicable] at the time of purchase will apply to the purchase of this product.
The Celestron NextStar 8SE has been featured in the following articles:
Mount Capabilities
Computerized Mount
The 8SE comes with motorized control in the form of an Alt-azimuth single fork arm mount and Nexstar hand control. 
The mount head has a dovetailed quick release bracket for quickly and easily removing or attaching the OTA. 
The hand control also sits in the bracket of the arm and can be used in place or removed for using it remotely.
While the mount works pretty well with the C8 optical tube assembly, it is not ideal to support the telescope and can be jiggly at high magnifications, particularly if you are using any heavy accessories or have the legs extended. 
This also presents the problem that you could knock the scope out of alignment if you're not careful.
This issue is not a deal-breaker but at this price point, it feels like an unnecessary frustration.
Aligning the tracking motor is straightforward and its performance once fully aligned is superb.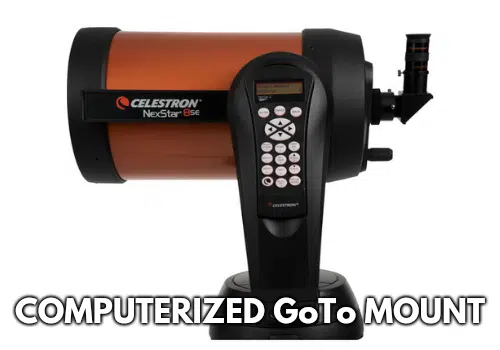 Hand Controller & Database
The hand controller allows access to a 40,000 object database, provides up to nine slew speeds, and two tracking modes – Alt-Az and EQ North & EQ South. 
Alignment couldn't be easier with its push-button system, and after you've aligned the GoTo system, you won't really need the red dot StarPointer finder scope.
With this amazing hand controller along with a massive database of 40,000 objects to select from a menu, you don't need to manually identify any of the sky objects. 
All you have to do is just select what you want to see and the telescope will automatically point to that object so that you can begin observing it.
This gives you so much time and prevents any frustrating periods of being unable to find what you want to see.
The electronics also act to keep objects within your eyepiece over time, as objects will naturally move across the night sky.
You may ask how the telescope automatically points at the object selected on the hand controller, this is where the SkyAlign technology comes into play.
SkyAlign Technology
SkyAlign is Celestron's proprietary technology and it is the simplest method to align a computerized telescope, providing ease of use for beginners while retaining the accuracy demanded by experienced users.
All you have to do is Input the date, time, and your location (GPS-equipped telescopes obtain all this information automatically) and then register three bright sky objects that are currently visible above.
Once the telescope processes this information, it will locate itself in the world.
Now that the telescope knows where it is, it knows what it can see in the database. 
You can select from any of the visible objects in the database for the telescope to find for you. 
Once selected, the NexStar 8SE will use the motorized goto mount to find the object in the sky. It will even track it for you over the course of an entire evening.
NexStar 8SE: Standard Magnification Levels
The Celestron NexStar 8SE is pretty powerful straight out of the box, but you can make it even better just by switching up the eyepieces and adding a 2x Barlow lens. 
The table below shows the magnification levels you can achieve with this scope using a 25mm, 18mm, and 10mm eyepiece.
Note: You can't go much further than 400x magnification with the telescope without your images becoming blurry.
| Eyepiece: | 25mm | 18mm | 10mm |
| --- | --- | --- | --- |
| Magnification: | 81x | 113x | 203x |
| With 2x Barlow: | 136x | 226x | 406x |
Portability
You may be concerned that its long focal length would make the telescope too long and unwieldy. However, its design – which makes use of a folded light path – allows it to be much shorter and compact.
The total kit weight is 24 pounds, including the telescope, mount, and tripod. This means the NexStar 8SE isn't too heavy for one person to carry and set up.
As such, it's easy and convenient to take on the road without any trouble.
Astrophotography with NexStar 8SE
Some of you may have assumed that since this is a premium telescope it must be perfect for astrophotography.
I hate to disappoint you but if you're mainly interested in astrophotography, the Celestron NexStar 8SE is not your best choice. 
This is because the telescope's tracking motor coupled to an alt-az mount has limitations.
But if you usually stargaze visually and just feel like dabbling in astrophotography once in a while, then this has enough specs for your hobby. Just invest in a Barlow lens to get a better image.  
This is how you can do it!
Since the second mirror is removable, you can essentially use a Fastar system that provides the effects of field flattening and focal reducing to capture galaxies and nebulae within 30-40 second exposures. 
The NexStar 8SE is capable of very good lunar and planetary astrophotography with either a CCD camera or a DSLR – both need a 2x or 3x Barlow lens for optimal sampling and the latter requires a T-adapter. 
Bright objects, such as the moon and planets, only need short exposures, so you can still take great pictures of them with the 8SE, but deep sky objects will come out somewhat blurry. 
Included Accessories
The OTA, mount arm and tripod, and hand control make up the bulk of what you'll find in the box. However, there's also a finderscope in there, a 25mm Plössl eyepiece, and a star diagonal.
The included 1.25" diagonal is a prism of very high quality.
While the 25mm Plossl works well for low power, you will probably want a 2" diagonal and wide-angle 2" eyepieces for low powers, and various 1.25" eyepieces for higher magnifications. 
The NexStar 8SE's finderscope is a simple red dot finder, which is all you need to align the GoTo system – after alignment is complete, you don't really need a finder at all.
You also get one free download of the Starry Night software Special Edition.
The software will allow you to control your telescope, even from your computer. 
Its features include a Deep Sky database, audio descriptions, interactive sky guide and simulation, sky calendar, 3D binary star systems, and other models, and more.
Limitations
Powering the NexStar 8SE
While the telescope can run on 8 AA batteries, you really need an external power supply for optimal use. 
You can't use rechargeable AA batteries either as they don't have enough juice, and a decent set of AA batteries tend to get drained rather quickly.
So if you want to properly use this telescope, you will need to get an external power supply.
At the very least you'll need an AC adapter and possibly even a separate Powerpack. 
Below are the details of both these products pulled directly from Amazon.
Prices pulled from the Amazon Product Advertising API on:
Product prices and availability are accurate as of the date/time indicated and are subject to change. Any price and availability information displayed on [relevant Amazon Site(s), as applicable] at the time of purchase will apply to the purchase of this product.
Prices pulled from the Amazon Product Advertising API on:
Product prices and availability are accurate as of the date/time indicated and are subject to change. Any price and availability information displayed on [relevant Amazon Site(s), as applicable] at the time of purchase will apply to the purchase of this product.
Having a computerized telescope is both a blessing and a hassle. Every time you want to start your observation, you must first introduce data such as the time, the date, and the location.
You can start watching the celestial bodies only and after doing that. To avoid this hassle, you should purchase a GPS 16 Accessory.
This small and durable piece will shorten the time spent on mounting the scope, allowing you to have more time for stargazing.
Prices pulled from the Amazon Product Advertising API on:
Product prices and availability are accurate as of the date/time indicated and are subject to change. Any price and availability information displayed on [relevant Amazon Site(s), as applicable] at the time of purchase will apply to the purchase of this product.
What do the NexStar 8SE Users say?
The user reviews for this telescope are for the most part positive however, some individuals have found it hard to focus the optics and the need to buy essential items like a power supply and better eyepieces, adding to the overall costs, is another minor issue users have had.
Nevertheless, if you're able to deal with these costs and the slightly poor weight management of the mount as well, it's definitely a premium telescope worth getting.
Conclusion
This is a great telescope for people who want a telescope that's powerful, easy to use, and easy to bring around.
Even if it's expensive, you definitely get your money's worth. However, we wish we didn't have to spend more to get basic things like a power supply, a better eyepiece, or even a sturdy carrying case.
Other than that, the NexStar 8SE does not disappoint. It is large, with an impressive visual range and scope. It can see things you did not even know existed and it can do it all with a few clicks of a button on a handheld device. 
Also, it combines the best in terms of visual power and image quality into one unbeatable package.
We are a team of active amateur astronomers, here to help you with all your astronomy and science related needs – this is anything, from reviewing the latest telescopes to be released to talking about gravity and neurons. The Big Bang Optics was started because of our love for astronomy and to help others like us find the best telescope and accessories.
The Big Bang Optics is a participant in the Amazon Services LLC Associates Program, an affiliate advertising program designed to provide a means for sites to earn advertising fees by advertising and linking to Amazon.com. The Big Bang Optics also participates in affiliate programs with Clickbank and other sites. The Big Bang Optics is compensated for referring traffic and business to these companies.