Celestron NexStar 5SE Review: Don't Buy Before Reading This
Disclosure: This post contains affiliate links and I may earn a small commission (at no extra cost to you) if you click through and make a purchase. Thanks in advance – I really appreciate it!
The Celestron NexStar 5SE Telescope is high-tech, a modern variation of a Celestron classic that packs in amazing features for an affordable price. This telescope hits the sweet spot between innovative, usable, and affordable like no other telescope in Celestron's telescope lineup.
The NexStar 5SE is compact enough to be transportable, yet it has a large enough aperture to resolve small details or capture enough light to see or image fainter objects well. An excellent offering that's not only suitable for beginners, but also for seasoned astronomers hunting for a "grab and go" instrument that delivers exceptional image quality at the touch of a button. In its size and price class, it's hard to beat, and with SkyAlign, it has everything you need to get started, whether it be planetary, lunar, and bright-deep sky imaging or simply a spot of stargazing. The telescope definitely has a few limitations too. Its GoTo mount tends to drain batteries rather quickly and the telescope comes with just one Plossl eyepiece.
Pros
Complete package for beginners

Ultra-lightweight & portable

Best for lunar, planetary & DSO observation

Precise GoTo system

Excellent optics

Sturdy tripod
Cons
Only 1 supplied eyepiece

Motors drain batteries quickly

Limited astrophotography

Expensive
Celestron - NexStar 5SE Telescope
Optical design: Schmidt-Cassegrain

Aperture: 5 inch (125mm)

Focal length: 1250mm

Focal ratio: f/10

Optical tube length: 330mm

Total kit weight: 8kg

Includes: Optical tube, single-arm fork mount, steel tripod, red-dot finderscope, NexStar+ hand controller, 25mm eyepiece, star diagonal

Power: 8xAA batteries, 12V external source
Prices pulled from the Amazon Product Advertising API on:
Product prices and availability are accurate as of the date/time indicated and are subject to change. Any price and availability information displayed on [relevant Amazon Site(s), as applicable] at the time of purchase will apply to the purchase of this product.
Celestron NexStar 5SE Review
Celestron NexStar 5SE received the 'Telescope of the Year' award in 2013 and even now it is one of the most popular telescope models among amateur astronomers.
The primary benefits of the NexStar 5SE computerized telescope are its lightweight platform, GoTo technology, and planetary performance. 
This will appeal to those who want to travel often with their telescope, prefer the convenience of having GoTo for automatic object locating and slewing, and who want to maximize their planetary observations and possibly planetary imaging.
One feature that a beginner might find really useful is that the 5SE offers automatic alignment with a simple hand controller that will end up saving a lot of time and energy.
Why is the Celestron 5SE worth it for beginners & intermediates?
The visual quality of the Celestron NexStar 5SE Telescope is masterfully blended with Celestron's technology to create a powerful computerized tool for stargazing. 
1. GoTo Mount & the Database
Celestron 5SE's motorized GoTo mount provides access to almost 40,000 moons, planets, stars, nebulae, clusters, and galaxies in its database.
This database has been integrated with a fully motorized goto mount meaning that the telescope can find any one of these objects if they are viewable in the sky.
The telescope will find the object for you and move into position for the best viewing. 
This means that anyone can use this telescope and begin to explore the universe without any experience whatsoever. 
This makes it perfect for anyone who wants to get into astronomy but doesn't know where to start.
Now you may ask – How does this telescope automatically find objects in the sky?
The answer is – Celestron's proprietary Sky Align technology.
2. SkyAlign Technology 
With SkyAlign, setting up your computerized 5SE telescope is faster and easier than you can imagine.
All you have to do is point the telescope at three bright objects in the sky and the telescope tells you what the objects are. You do not need to know the names of the stars – you can even pick the moon or bright planets! 
Once you have picked 3 bright sky objects, this telescope will then use the position of these three celestial bodies to find itself in the universe and line up all of the database objects for you.
This takes all of the guesswork, adjustments, pointing, and searching out of the equation and allows you to simply look at the objects in the sky without any frustration or hassle. 
Once it locks onto the desired object it is even able to track the objects across the sky for you so that you never lose sight of that great view.
Celestron NexStar 5SE: Optical Performance
Excellent Lenses & Mirrors
As you might expect from a Celestron telescope, the optics are of high quality for the price. Being a Schmidt-Cassegrain, the NexStar 5SE has a corrector plate, concave primary mirror, and convex secondary, which allows the user to make use of the compact OTA without compromising focal length.
An ordinary mirror reflects only 4-5% of the light that falls on it, which isn't very helpful when straining to see faint stars and galaxies, so optical coatings on the NexStar 5SE's mirrors maximize the amount of light for breathtaking views.
The StarBright XLT coatings on the NexStar 5SE's mirrors reflect an impressive 95% of the light that's incident on them, meaning that there is very little light loss as the distant starlight is reflected from the primary to the secondary and then through to your eyepiece. 
The 25mm Plössl eyepiece that comes with the NexStar 5SE is of reasonable quality, offering a magnification of 50x. 
To make the most of the optical system though, you'll want to invest in other eyepieces with a variety of magnifications.
The highest and lowest useful magnification is near about 295x & 18x respectively. The resolution for Rayleigh and Dawes is 1.11 & 0.93 arc seconds.
The apparent field of view of this telescope is 0.83 degrees with 44 feet narrow field view.
Phenomenal Optical Performance
The Celestron NexStar 5SE Telescope is capable of getting amazing colorful views of Jupiter, showing all of the reds and oranges of its cloud bands. 
It can also pick up stunning white and blue light from distant star clusters and blue supergiant stars. The quality of the images that come through this telescope really is breathtaking.
From the cold closeness of the moon to the super vibrant light of massive hot stars, this telescope can do it all.
This is because of its decent but not massive aperture (5") and its middling focal ratio (f/10). The combination makes a versatile optical platform in which you can get amazing views of the universe.
While I feel this instrument is best for Solar System targets, the NexStar 5SE provides fair views of bright deep-sky targets such as the Orion Nebula (Messier 42). This diffuse fuzzy star-forming region is clear in the field of view, with stars in the Trapezium Cluster at its center sparkling with excellent clarity.
Prices pulled from the Amazon Product Advertising API on:
Product prices and availability are accurate as of the date/time indicated and are subject to change. Any price and availability information displayed on [relevant Amazon Site(s), as applicable] at the time of purchase will apply to the purchase of this product.
The Celestron NextStar 5SE has been featured in the following articles:
What can You See With Celestron NexStar 5SE?
Moon & Planets
The 5SE's small aperture and narrow field of view make it primarily a lunar, planetary, and double star instrument.
Some of the easy things to observe are Jupiter's moons, The Great Red Spot, and its storm clouds. Rings of Saturn are a piece of cake, its largest moon Titan and some of the smaller moons are visible. 
Mars and Venus are not easy to observe with NexStar 5SE. Some surface detail on Mars is visible as black and white stains, and phases of Venus are observable.
The Lunar Surface looks mesmerizingly sharp, detailed, and contrasty. Due to the lack of diffraction spikes(a reflector problem), NexStar 5SE would be one of the best telescopes for observing the moon's surface in great detail.
Moreover, the 5SE will also have no trouble splitting double stars as close to an arc second apart under clear and steady skies.
Overall planetary performance is what NexStar 5SE is built for, and it achieves its objective.
Deep-Sky Objects
Deep space performance is expectedly average. The 5″ aperture is not enough for gathering a lot of detail from galaxies and nebulas, and the field view is too narrow.
You'll be able to spot most of the objects in the Messier catalog and view globular clusters and galaxies, but resolving individual stars in globular clusters – as well as detail in most galaxies such as spiral arms or dust lanes – will be challenging, even if you are in dark skies far from light pollution.
Celestron NexStar 5SE: Mount Capabilities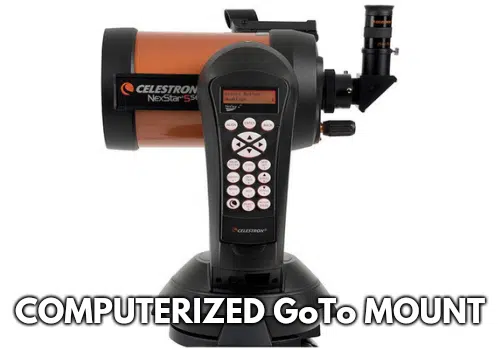 Like many SCTs, the NexStar 5SE comes with a single fork arm mount that is also used on the 6SE and 8SE models – so the mounts on each scope provide identical benefits.
The build quality of the mount is superb.
The connections between the optical tube and the mount are strong. The motorized nature of the mount clearly helps by providing a stronger grip.
Getting a longer dovetail bar would help with stability. But it is not necessary; the optical tube is short enough for decent stability.
It's a simple alt-azimuth GoTo mount with a Vixen dovetail saddle that runs off fairly decent servo motors.
The mount is controlled via remote and has a database of over 40,000 celestial objects, many will not be visible through the NexStar 5SE simply due to the small aperture and 40% by diameter secondary obstruction. 
Along with the sky align software that comes with all GoTo Celestron devices, the process of aligning the lens should be fairly straightforward and ultimately allow you to see some great sharp images of outer space.
You can make quick work of aligning the GoTo with SkyAlign, Auto 2-Star Align, Solar System Align, and more. 
The mount lacks dual encoders, so you cannot slew the telescope manually without ruining the GoTo alignment. 
Even if you neglected GoTo for manual slewing, the azimuth axis is difficult to slew by hand.
A major drawback of this mount is that it drains out batteries rather quickly. I highly recommend investing in rechargeable batteries for this telescope.
Celestron NexStar 5SE: Astrophotography
While the 5SE comes with features suited to astrophotography, it's really too light-duty for deep space imaging but you can get away with up to 30-40 second exposures, stacking, and ditch the frames you don't want.
Serious astrophotography will not be possible with the NexStar 5SE, but if the object you are imaging is spectacularly bright, like the Moon, Jupiter, Saturn, or the Pleiades, short exposures are enough.
The alt-azimuth nature of the mount doesn't help if you're looking to use this telescope for serious long-exposure astrophotography.
However, given the telescope's versatile Vixen dovetail, there is a workaround, and users can still make use of the exquisite optical system using an equatorial mount that's able to track the sky. This will assist with exposures of longer than a minute.
To tackle this issue, Celestron has included a built-in wedge that tips the telescope into the equatorial mode, but it's not as accurate in its tracking as a purpose-built equatorial mount.
For astrophotography, make sure that you use lightweight camera devices like a smartphone or CCD webcam-style camera with this telescope.
If you're looking for a telescope especially for astro-imaging, then you may read my article with all the best telescopes for astrophotography.
Celestron NexStar 5SE: Limitations
Celestron doesn't include a built-in battery with the NexStar 5SE. Instead, they send a slot for 8 AA batteries.
However, the issue is that the NexStar 5SE drains these 8 AA batteries pretty quickly, sometimes within a single viewing session.
To deal with this issue, you'll need a 12-volt power supply for this scope, or a constant power supply like a Celestron Powertank for uninterrupted imaging and observing. 
PowerTank, 12v 7Ah
THE ORIGINAL TELESCOPE POWER SUPPLY: Enjoy extended astronomy sessions with this 7-amp hour sealed lead acid power supply with 84 Wh capacity.
Prices pulled from the Amazon Product Advertising API on:
Product prices and availability are accurate as of the date/time indicated and are subject to change. Any price and availability information displayed on [relevant Amazon Site(s), as applicable] at the time of purchase will apply to the purchase of this product.
The other big complaint with this telescope is the occasional software glitch. 
People have reported issues with getting SkyAlign to work properly, firmware issues, and having problems with the database connecting with the computerized mount.
None of these problems seem very widespread and I only briefly struggled with SkyAlign until I figured out how to get it to work more consistently. 
Basically, it just needs a little bit of practice and you can learn how to make it work in no time. 
Another drawback of this telescope is that it comes with just one average quality Plossl eyepiece. I highly recommend buying a set of eyepieces and a Barlow lens separately if you want to make full use NexStar 5SE's amazing optical performance.
Included Accessories
The NexStar 5SE package comes with a red dot StarPointer finderscope, 25mm Plossl eyepiece, visual back, and a mirror star diagonal.
The accessories are decent quality and will do their job pretty well so you shouldn't need to worry about upgrading them immediately after getting them although, later down the line, buying additional medium and high magnification eyepieces of shorter focal length would be good to get the most out of your 5SE.
Conclusion
The Celestron Nexstar 5SE is genuinely a very solid system. Beginners new to GoTo are looking for great optics, portability, and a decent price. The NexStar 5SE has all these requirements to be a good, dependable scope for a long time to come.
If you're looking for a compound system that's portable, has a solid GoTo mount, has good accessories in the box, basically just does a good job, the Celestron NexStar 5SE isn't a bad device at all.
We are a team of active amateur astronomers, here to help you with all your astronomy and science related needs – this is anything, from reviewing the latest telescopes to be released to talking about gravity and neurons. The Big Bang Optics was started because of our love for astronomy and to help others like us find the best telescope and accessories.
The Big Bang Optics is a participant in the Amazon Services LLC Associates Program, an affiliate advertising program designed to provide a means for sites to earn advertising fees by advertising and linking to Amazon.com. The Big Bang Optics also participates in affiliate programs with Clickbank and other sites. The Big Bang Optics is compensated for referring traffic and business to these companies.